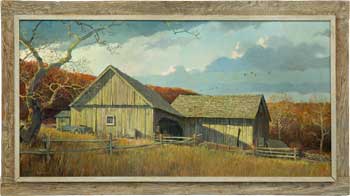 Lot 58: ANCEL NUNN (1928 - 1992 TEXAS) TEMPERA ON PANEL Sold: $6,050
Lot 61: JULIO LARRAZ (1944- ) OIL ON CANVAS Sold: $41,800
Lot 64: WILLIAM LESTER STEVENS (1888 - 1969) OIL ON CANVAS Sold: $11,000
Lot 71: PAUL DOUGHERTY (1877 - 1947) OIL ON CANVAS Sold: $6,000
Lot 79: JOHN F. CARLSON (1874-1945) OIL ON CANVAS Sold: $70,400
Lot 94: ERIC SLOANE (1905 - 1985) OIL ON PANEL Sold: $16,000
Lot 107: WALTER ELMER SCHOFIELD (1867-1944) OIL Sold: $41,800
Lot 118: KEITH CROWN (1918-2010) ABSTRACT WATERCOLOR, TAOS NM Sold: $5,500
Lot 121: HERMANN O. HERZOG (1832-1932) OIL ON CANVAS Sold: $6,050

Lot 131: PETER POSKAS (1939- ) OIL ON CANVAS Sold: $9,900
Lot 141: CHAUNCEY RYDER (1868 - 1949) OIL ON CANVAS Sold: $6,050
Lot 142: ERIC SLOANE (1905-1985) OIL ON PANEL VERMONT HAYING Sold: $8,250
- Complete Realized Price Catalog Here -
On January 10, 2014, Dirk Soulis Auctions sold this fine collection of more than 100 Paintings, Prints and Works on Paper – along with Furniture and Decorative Arts featuring monumental Boehm Porcelain, a large Tabriz Pictorial Persian Carpet and a Florence Knoll Verdi Alpi Marble Top Conference Table.
The Layne Christensen Corporation, just recently awarded a 57 million dollar contract for the San Francisco Subway Project, is a global water management construction and drilling company that provides responsible solutions for water, mineral and energy sources around the world. They may be best known for their role in the rescue of trapped miners in the Chilean copper mine collapse of 2010. It was their team and their experience and their engineering that opened a 26-inch wide rescue shaft through solid rock to free the 33 miners trapped more than 2,300 feet underground. The Layne approach took two months less than the next most optimistic rescue plan.
In late 2012, the Layne Christensen Company, then based in Mission Woods, Kansas, announced that it would move its global corporate headquarters from Kansas to Houston, Texas. With this move and corresponding changes in direction came the decision to liquidate the bulk of their corporate collection previously on display in the offices, conference rooms, and common areas of the former world headquarters.
Thus, an unreserved public auction to disperse this impressive collection occured on January 10, 2014 at the Overland Park Convention Center, located at 6000 College Boulevard in Overland Park, Kansas. Public preview of the material occured on January 9th. And inspection of the major pieces in the collection was arranged by appointment.
Auction bidders participated live in the sale room, by telephone, absentee, and by live Internet simulcast.
We appreciate your interest.
Dirk Soulis Auctions