Estate Auction
The Eugene DeGruson
Collection of Rare Books, Manuscripts, Autographs
and Verse
Click on an image below to see a larger preview.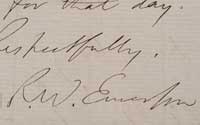 Ralph Waldo Emerson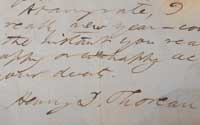 Henry Thoreau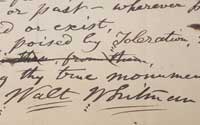 Walt Whitman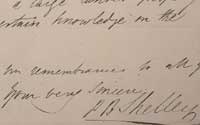 Percy Shelley
Saturday, February 26th, 2011


Lone Jack, MO
Gene DeGruson (1932-1997), Collector, Historian, Librarian, Publisher and English Professor from Pittsburg, Kansas began collecting Literature, Autographs and related material in the 1950s. He continued actively collecting up into the 1990s. The result is a large body of material that includes written verse by Whitman, Thoreau, Emerson, Percy Shelley, Mary Shelley, Lord Byron, Longfellow, Bret Harte, Pepys and many, many others including Allen Ginsberg and other major figures within the Beat movement.
There are large archives of material from figures such as Amy Lowell, Upton Sinclair and Emma Goldman. The total number of pieces involved ranges into the thousands.
A very few books from Gene's collection still remain but include the 1497 Edition of Stultifera Navis (The Ship of Fools) with Woodcuts attributed to Albrecht Dürer.
There are Poetry Broadsides, Signed Photographs, ALS, TLS, AQS, TQS, LS, Endorsements, Documents, Manuscripts, etc. Areas of interest include Artists, Entertainment, History (including signed letters from several members of the anti-Slavery campaign), Literature (including Pulitzer and Nobel Prize winners), Poets, Presidents and much more.
Included are numerous receipts and correspondence between Gene and various dealers, archivists, researchers, authors, essayists, fellow historians and fellow collectors.
(For prices realized click on the above link and log-in in the upper right had corner of the Live Auctioneers catalog page)